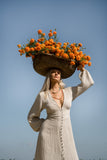 
Moonlight dress in Natural linen
€220.00
Esta pieza es única y especial, por ello no hay dos piezas bukit & soul iguales. Teñida, estampada y confeccionada a mano en la isla de Bali, una a una para cada pedido, necesitamos de 2 a 3 semanas (podría ser menos y haremos todo lo posible para que sea menos!) para crear y enviar este tesoro desde nuestra isla bonita. 

Dado el proceso artesanal en su creación podría haber pequeñas irregularidades o imperfecciones en el color o textura de esta pieza. 

Asimismo, también por su esencia artesana, te aconsejamos que cuides cada prenda bukit & soul con mimo. Lávala con agua fría, y por separado ya que podría transferir color a otras prendas, no utilices secadora, ni la seques al sol doblada. 

This is a handcrafted and individually made garment which means no two bukit & soul pieces can be the same. We hand dye, hand print and hand craft every piece, one by one for each order, so we may need up to 2 to 3 weeks to make this piece come to life and ship it to you.

As a result of the hand made process, there may be slight irregularities in the color, texture or print of our clothes, and they might transfer color to other garments. 

Alos, due to it's handcrafted essence, this piece of clothing is a delicate beauty and needs to be handled with care. We suggest soft hand washing. Line dry or dry flat, cool iron. Do not bleach.
Belt is not included 
100% LINEN
Hand made in Bali with love
SHIPPING & RETURNS